Top 8 Websites to Watch Cartoons/Anime Online
Everyone loves cartoons! Be it children or grown-up, there's nothing quite like the feeling of sitting down to watch cartoons. The innocence, joy and comedy we get from them is unparalleled. In today's age when everyone is running toward money and leading a stressful life, cartoons provide the much needed stress relief to people.
However, not everyone gets enough time to watch these cartoons on TV. To be an anime fans, finding a website where they can satisfy the hunger of watching at any time always comes on top of the must-do list. So here in this post we're going to share some of the best websites to watch cartoons/anime online for free. Now you can binge on your favorite cartoon shows anytime and anywhere.
Cartoons On is no doubt one of the best websites to watch cartoons online for free. It has a very pleasing UI which attracts users from the moment they land on the site. There are many amazing shows available on this website like Tom and Jerry, Mickey Mouse, Casper, etc. What I love most about it is the top menu where content is segregated on the basis of Studious, characters etc. Using this, it is very easy to find the anime you love. There is also a search bar at the top to find cartoons simply by entering a search query. Besides, this site doesn't has any annoying pop-up ads or full screen ads, which is a definite relief as ads can really hamper the watching experience.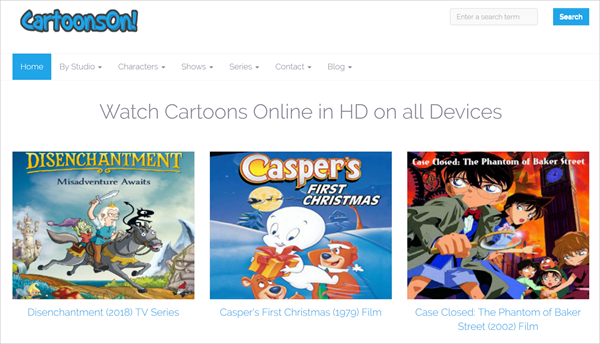 Just like Cartoons On, ToonJet is another amazing and one of the most popular websites to watch classic cartoon shows online for free. You can easily find many classic cartoons to watch on this website. Just find your favorite anime and start watching. However, when compared to Cartoons On, I find the UI of this website to be a bit clunky. It's not as streamlined or easy on the eyes as Cartoons On. Yet nevertheless, it is still a great site which aggregates classic cartoon shows for everyone to watch online.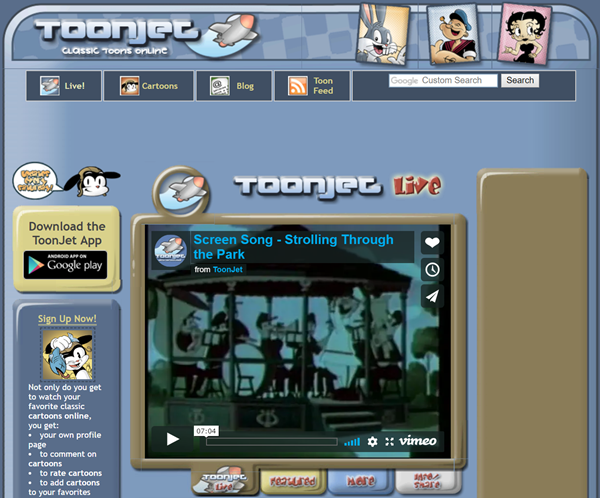 YouTube is no doubt the first one that comes to our mind when we think about video streaming. Thanks to constant updates and improvements by Google, YouTube has reached unprecedented heights and has become the best platform for both content creators and content consumers. Here you can find great many cartoon shows. And with dedicated and full featured app, it is very easy to watch cartoons on YouTube from smartphone, iPhone, iPad, or TV.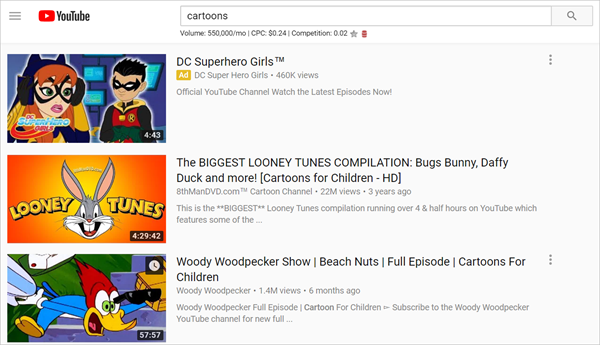 Watch Cartoon Online is another amazing website in this super awesome list. It has a simplistic layout with a dark theme that gives it an attractive look and also helps when watching shows. The UI is easy to navigate with shows categories on basis of type in the top menu and a whole list of popular cartoons in the sidebar. The large thumbnails really give the site an attractive look and anime fans cannot stop themself from start watching the huge variety of content that is available to binge on. It is really a highly recommended website for all cartoon lovers.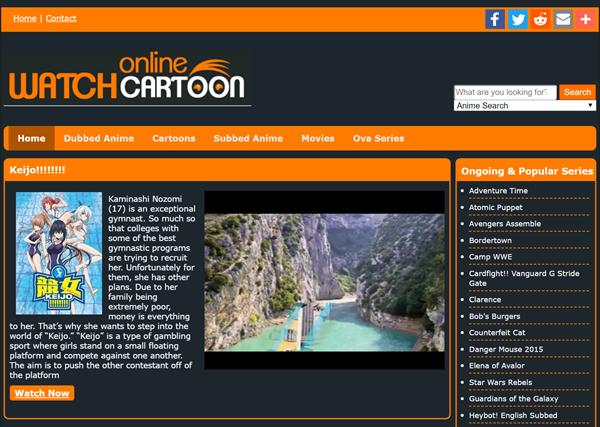 If you are a lover of anime cartoons, then Go Go Anime is one of the best websites to go to. You can find almost any anime with English dubbing on this site. And the best part is that this website is available worldwide. So you no need to use any VPN to watch your favorite anime shows online for free. The video quality is really great which give excellent watching experience on portable devices as well as PC.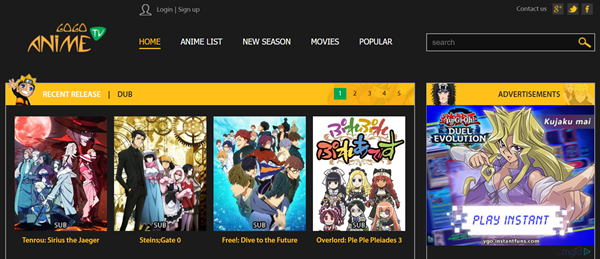 Disney Junior is one of the best sites to watch cartoons, which is an official Disney website and has plenty of content to watch. Here you can freely watch Disney cartoons online like Mickey Mouse and so forth. However, viewing outside of the United States is blacked by this website. So you need to use a VPN with US server to watch these shows. But it's pretty much straight forward as there are plenty of free VPN apps available.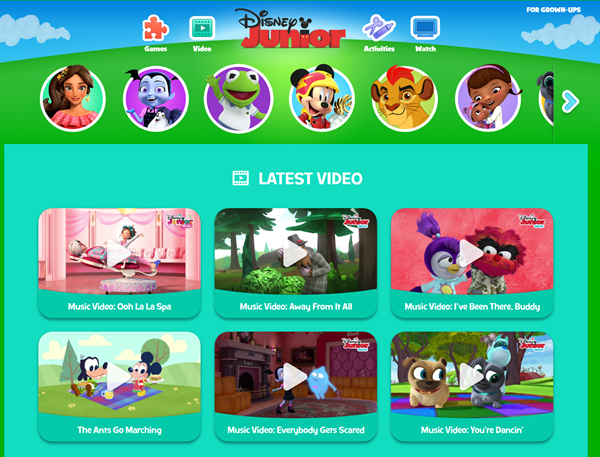 Nick Toons is one of our favorite websites to watch cartoons online for free. You can watch plenty of popular cartoon shows on this website. However, one thing to note is that this website is limited to Nick cartoons only. So don't expect to watch Disney or Warner Bros cartoons here. But if you like Nick cartoons like SpongeBob SquarePants, Jimmy Neutron, Avatar etc, then this website is best for you.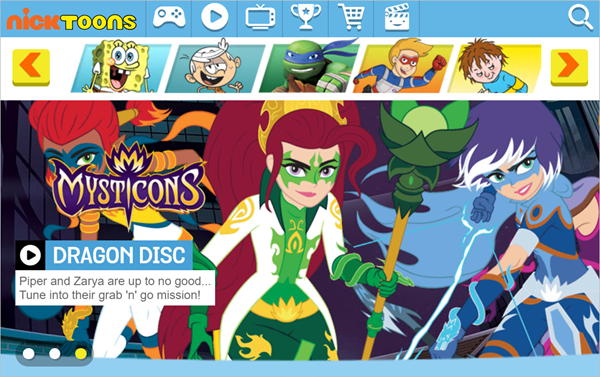 Anime Toon is another anime cartoon streaming website that offers great selection of shows to watch from. Anime lovers will definitely love the content on offer. All cartoons is offered under different categories that makes finding your favorite shows easier. The site has a pleasing and easy to use UI and is amongst the very best sites for Anime.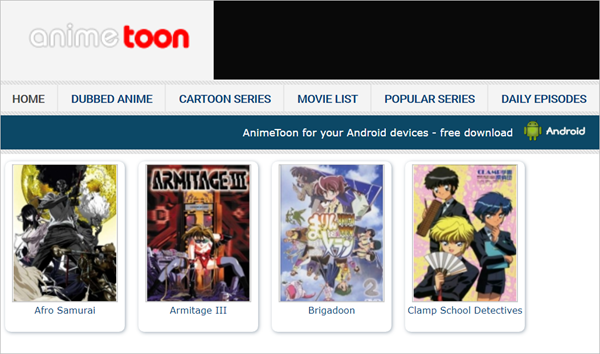 In Conclusion
So this is a list of the best 8 sites to watch cartoons and anime online for free. We have personally used these websites and can definitely vouch for their quality. Hope you also find them useful and enjoy your favorite shows. Watching cartoons and anime online is really great but what if your internet goes slow? It's much more convenient to download online cartoons to offline clips, then you can watch them anytime, anywhere without internet connection. Here we suggest you try Gihosoft Total Video Converter, a powerful all-in-one video tool that enables to download cartoons from YouTube and many other video streaming sites. Besides, you can easily convert these downloaded cartoons to your desired formats and make them playable on all kinds of devices.